NEST's Insight unit is looking at how to improve pensions outcomes for the less fortunate
Key points
The research arm of the UK's NEST master trust is forging links with academics and organisations in other countries

A two-year trial of a 'sidecar' savings project aims to discover how auto-enrolment could aid financial wellbeing

Further research is investigating expanding auto-enrolment to younger workers and the self-employed
More than 10m people have been auto-enrolled into UK workplace pension schemes since the policy came into force in 2014, according to government statistics.
With opt-out rates remaining lower than predicted even as mandatory minimum contributions have risen, it is little wonder that Guy Opperman, the UK's pensions minister, and other politicians publicly celebrated its success.
However, at the National Employment Savings Trust (NEST), it is clear that this is just the beginning. Chief investment officer Mark Fawcett is continuing to explore scalable investment options suitable for a growing defined contribution (DC) scheme – assets under management grew from £2.8bn to £5.9bn (€3.2bn-6.4bn) in the year to 31 March 2019 – with a time horizon stretching far into the future.
It is not just the pension fund that is looking into the future. At NEST Insight, the fund's research arm, staff have linked with universities and research groups across the world. Their goal is to share the lessons from the start of auto-enrolment and explore how to improve the financial wellbeing of pension savers.
The research body emerged from the first months of work building NEST – then known as the Personal Accounts Delivery Authority. "One of the first things we recognised was that the population for auto-enrolment was not the same as the customers of the established corporate pensions market," says Matthew Blakstad, assistant director at NEST Insight. "We couldn't find a lot of research focused on that market – which shouldn't be a surprise because these people hadn't been a target client group."
Staff engaged with academics, researchers and behavioural scientists to understand this new client base. "By virtue of setting up NEST we started entering into collaborative research projects," he says.
However, this wasn't the normal activity of a pension fund, and energy and resources had to be channelled into the growth of the fund itself. As a result, NEST Insight was launched three years ago as a "quasi-independent" entity within NEST but funded (in part) by commercial partners.
Fast-forward three years to NEST Insight's 2019 conference, hosted in July by JP Morgan Asset Management in London. NEST staff mixed with academics, researchers, asset managers and representatives of other DC master trusts. The event explored themes beyond UK pension policy, with financial wellbeing and inclusion at the core of most speakers' addresses, demonstrative of the research body's remit.
On the eve of the 2019 conference, as the think tank announced a strategic partnership with Invesco, executive director Will Sandbrook said NEST Insight wanted to "drive real change".
"We conduct research that's the first of its kind, testing practical solutions and sharing those insights widely and freely," Sandbrook said. "We believe that what we learn can help inform and support others who are similarly working to improve the outcomes of defined contribution savers, and help those who are yet to start saving, in the UK and around the globe."
One example is research conducted in partnership with Netspar and Maastricht University. The organisations' initial work – summarised in a 2017 paper co-authored by Blakstad and Maastricht University's Elisabeth Brüggen and Thomas Post – looked into how pension providers could communicate more effectively and sensitively with members around life events, such as a new job, redundancy, or bereavement.
Sidecar savings
Arguably, NEST Insight's most high-profile activity to date has been the introduction of a 'sidecar' savings project. First announced in 2018 and launched this July, it is designed to improve the financial resilience of UK workers.
Three employers – high street services chain Timpsons, Yusen Logistics and the University of Glasgow – have signed up to offer an emergency savings option to employees. During the two-year trial, staff at the three organisations can save into an emergency savings pot using contributions from their wages, on an opt-in basis. Blakstad says more employers are likely to join.
The savings 'jars', as NEST calls them, have been framed as emergency savings accounts, but no restrictions have been placed on how the money can be spent or how accessible it is. Staff can set how much they would like to save each month and an overall target for the pot. Any contributions paid after this is reached will be automatically redirected into the individual's NEST pension account.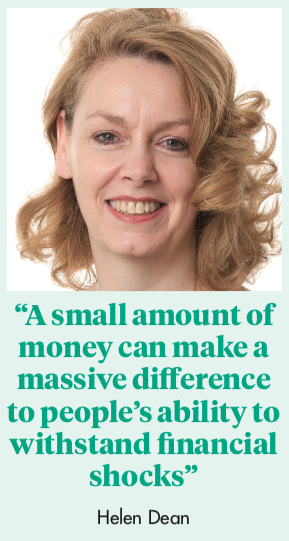 The Money and Pensions Service, which helped fund the project, said the trial was designed to see how much individuals were prepared to save; whether they maintained a regular saving amount; what effects were observed on individuals' financial resilience; whether savers were "on a trajectory to save more for retirement"; whether the savings had effects on financial and non-financial wellbeing; and who benefited from the trial and why.
Blakstad indicates that there are more questions to which NEST Insight hopes to provide answers: "How does auto-enrolment fit within the financial life of people not at the top of the income distribution? How do those people afford contributions? What are the effects elsewhere?"
The future of auto-enrolment
While the pension fund – and the emergency savings trial – is up and running, for Blakstad the spotlight is now on outcomes.
"Who's doing well, or less well, out of auto-enrolment? Not everyone gets the same outcome," he says. "There is the gender pay gap [and] the increasing gap between the savings of the self-employed and the full-time employed. That's a really good example of how we might expand the net to bring in other groups that can't necessarily benefit from auto-enrolment directly, but we can use behavioural finance ideas to get them into retirement savings."
At the conference, guest speakers highlighted other areas that NEST Insight – and policymakers and experts – should explore. Yvonne Braun, director of policy at the Association of British Insurers, spoke about the need to address the fact that women on average save less for retirement, while blogger and journalist Iona Bain argued for a renewed approach to engaging younger savers. Helen Undy, CEO of research charity Money and Mental Health Policy Institute, called for the financial services industry to adapt its practices to take into account the needs of vulnerable people.
Summing up the conference, NEST chief executive Helen Dean focused on these three speakers in particular. "We're not talking about niche bits of the market," she stated. "When you talk about women, or young people, or renters, or people with mental health problems, or self-employed people, this isn't a niche issue. This is the population."
She added: "A small amount of money can make a massive difference to people's ability to withstand financial shocks. About three quarters of people in financial problems will say it affects their sleep, about half of people will say it means they can't concentrate at work, and about half of people will say it has affected their personal relationships."
As Dean acknowledged, many of the areas of research covered by NEST Insight go beyond financial issues. "They are not just financial problems," she said, "these are social problems."
— to www.ipe.com